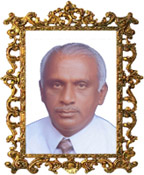 Mr. N. Kumarasamy
Founder, Mr N Kumarasamy, joined as an erector in the construction division of  ACC Cements in the year 1962.  He worked for ACC till 1984 at various levels.  In 1984 he resigned from ACC and started on his own under the name Kanaga Durga Constructions.  He started his career as a consultant for mini cement plant erection jobs.  Within a short span of 2 years, he successfully executed the erection of Electro Static Precipitator (ESP)  and Gas Cooling Tower(GCT) for M/s Dalmia Cements, Trichy.  As a reward for the fast and efficient work executed, Dalmia Cements, recognized it with a immediate repeat order intheir Orissa Cement Plant which was also executed successfully. Since then many erection jobs mainly in cement plants were done by this company for both Private and Government sectors.
Mr. K. Raja
In 1991, Mr K Raja, son of the founder Mr N Kumarasamy joined in, after which the company grew by leaps and bounds. In 1992, the company succeeded in getting a major order of BHEL, Ranipet in an open tender. The company erected 4 Electro Static Precipitators to BHEL. By ensuring quality work the company increased its area of operations throughout India and started attracting repetitive customers.  Please click here to view our esteemed customer list.

In 2004, the company continued its operations under a new name - Kanaka Durga Engineering. Today we have more than 50 big customers. We at Kanaka Durga Engineering always strive to diliver quality, improve our subject knowledge and hence educate our clients and strengthen our skills. All the members of our team look forward to comprehensive expansion of the company in capacity and quality with enhanced safety features for all during erection jobs. We assure you our best services at all moments.